Chinese Artist to Open Ulrich Show
期刊與書籍

The Wichita Eagle and Beacon

1980.2
---
Chinese artist Liu Kuo-sung will be on hand from 6:30 to 8 p.m. Wednesday to open a three-artist show at the Ulrich Museum of Art at Wichita State University.
Besides Liu's 25 paintings, there will be a retrospective of paintings by Moses Soyer and box constructions by Joseph Cornell. All three exhibitions will remain through March 2.
Liu, who is on sabbatical from his teaching post at the Chinese University of Hong Kong, gave up painting with oil on canvas in 1961 and began working with ink on paper. He used black and white with only occasional touches of color, painting on rough cotton paper often rolled into the traditional scroll form.
Today, his works are full of color and bold strokes of black, and still are painted on hand-made scrolls. Although abstract, his images have elements of landscape, suggesting the motion of clouds and water, and the mystery of the forces of nature.
Most of the works in the exhibit are from the 1970s, but a few are from the 1960s.
Born in Shantung in 1932, Liu graduated from Taiwan Provincial University in 1956. He was one of the founders of the "Fifth Moon Group," a young artists' association that has held annual exhibitions in Taiwan since 1956.
---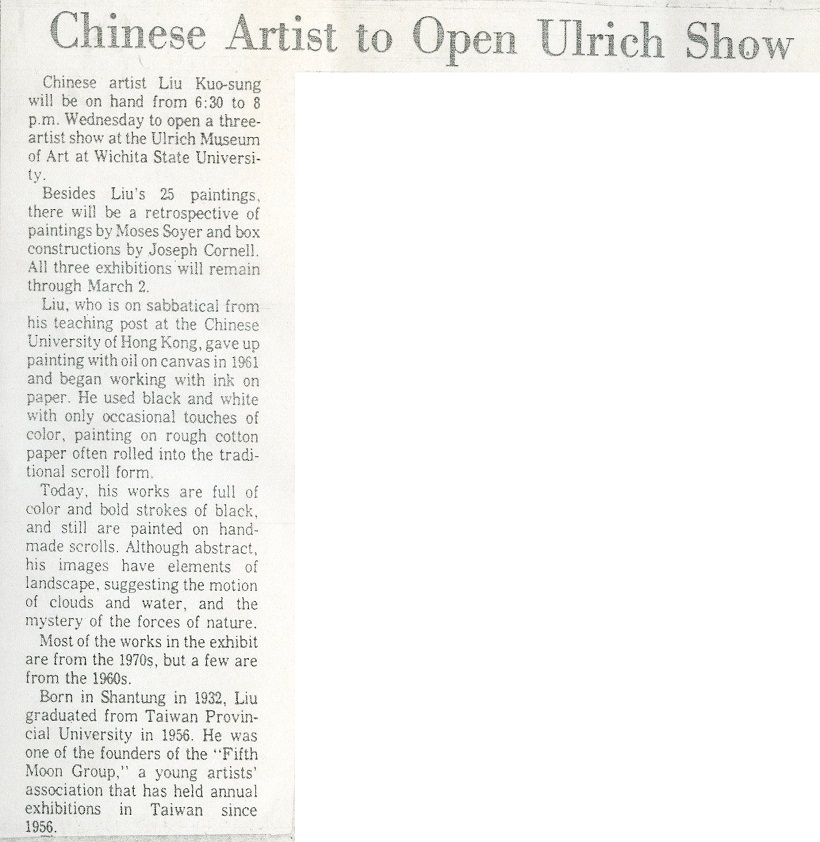 Back to all