Elegant Synthesis of East, West Paintings at Monterey Museum

期刊與書籍

The Sunday Herald

Irene Lagorio

1980.5

10B
---
The Monterey Peninsula Museum of Art's quasi-retrospective exhibition of Chinese-Western paintings by Liu Kuo-sung encompasses some 20 years of creative activity by a leading Chinese painter-teacher-writer who was born in 1932 in Shantung Province, took his B.A. degree in 1956 at the Taiwan Normal University in Taipei and is now on sabbatical leave from the Chinese University in Hong Kong.
Some of the paintings in Liu's exhibition are presented as Chinese-style scrolls. Others are framed Western-style with elegant metal frames. Certain paintings (generally with the sun or moon as the major motif) were created as solitary works of art, whereas others, like the seven-part "Midnight Sun," were organized to read as serial images to imply the passage of time.
Regardless of configuration, all of Liu's elegant paintings demonstrate the synthesis of Western and Chinese esthetics which began when Liu was a university student and continues to this day.

Record of Progress

The exhibition provides a clear visual record of Liu's progress toward this East-West synthesis. There are hints of anti-traditionalism in his boldly-ex-anti-traditionalism in his boldly-expressive black and white "Chinese Lotus," painted five years after he took his degree in both Western and Chinese painting at the Taipei university.
This anti-traditionalism made Liu a leader of the "Fifth Moon" avant-garde movement in Taiwan during the late '50s. Moreover he maintains this anti-traditionalism to this day with the signature seal (identifying him as a "man of the north, south, east, and west") which is stamped on each of his paintings.
"The Fifth Moon Group," Liu explained on a recent trip to Monterey, "was an artists' club, organized in 1955, which originally met every week to discuss esthetic problems or exchange thoughts. The group, still active in Hong Kong and Taiwan, believes there can be no East, no West, but in a combination of all the cultures in the world.

Duty
       
"Laying a foundation for this development," Liu added, "is considered a duty among the Fifth Moon artists in Taiwan and Hong Kong. I have written three books (in Chinese) on combining Chinese and Western art traditions. I also like to travel and put Eastern and Western painting traditions together."
Upon hearing this, one naturally looks at Liu's Monterey exhibition with an eye of seeing how well the two traditions are merged within specific works.
Conclusion?
 
Liu's three blue, black and white scroll paintings, created in 1965 with rich pools of blue pigment floating in a matrix of black, are more Eastern than Western in their interpretation of such subject as a "Dream of Snow Mountain" and the "Downward Gurgling" of a stream "Disappearing Into the White Void."
A noticeable change becomes apparent when one views the paintings dated 1969 to 1972 and constructed with a hard-edge sun-moon disk as the dominant pictorial element.
These same paintings also demonstrate a shift to clean-cut contours which are the antithesis of the soft, furred calligraphic brush strokes of Liu's earlier paintings.
Liu admits that newspaper photographs of Apollo 7 were a strong influence on the development of these works, which writers eventually categorized as his "moon period."
"In painting the moon paintings," Liu said, "I came to see the disk or circle shape of the sun and moon as a perfect compositional element. I think I arrived at this conclusion because the contour of a circle is so simple.

Different Compositions
 
"At first, I made paintings with only one circle. Then I tried different compositions, some with three circles, others will five or seven circles.
"Toward the end of my moon period, I noticed that the moon motif was becoming smaller and smaller. When it disappeared altogether," the artist-teacher stated with a hearty chuckle, "I knew my moon period was completed."
The most graphic example of this trend in Liu's Monterey museum show is best exemplified by "Coming," a seven-piece blue, gray, white and black serial painting which he created between 1972 and 1979.
Each separate painting in this aggregate of seven paintings has a moon floating against a midnight blue sky. When the seven paintings are assembled together, as they are in the museum's main gallery, they become a long wall panel, 3 feet tall and 21 feet long.
As for the moon motif in this panel of paintings, it appears seven times, first as a large circle, on the extreme left, which gradually diminishes in size as it moves in serial sequence from left to right over a great curve symbolizing the Earth.
After completing this work, Liu decided to try a change of theme and technique. He then "came back to Earth" and rearranged his sights on our earthly environment. Liu regards this new terrestrial trend as a natural phenomenon because "we Chinese feel at home in the mountains and every year I feel I must go to the mountains for a couple of weeks."
Liu's reawakened environmental interests are expressed in his Monterey show with three pastel-toned scrolls. Their soft-edged configurations are an undeniable contrast to the big, black and white "Chinese Lotus" of 1961.
Furthermore, all three of these 1977-79 paintings – titled "At the Foot of the Hill, 1977," "Impression of Sunset, 1977" and "Fold Upon Screened Fold, 1979" – prompt the thought that Liu's anti-traditionalism may have mellowed with travel through the United States, Australian and European continents.

American Influence

One sees the possible influence of American color field painting in some of these works, while his use of the airbrush certainly reflects the interest in this instrument which surfaced among easel painters in the '70s.
On the other hand, Liu's innovative use of paper fibers as a masking unit to be painted over, then pulled off to reveal untouched white paper, is a fascinating reapplication of Oriental stencil art.
In 1977, when Liu Kuo-sung presented a considerably smaller solo show of his creative output at the Laky Gallery in Carmel, his paintings were characterized as works possessing "museum quality."
Now, three years later, the large selection of Liu's paintings in the Monterey museum environment prompts the observation that Liu's painting conceptions change with his travels about the world, but his work still possesses "museum quality."
---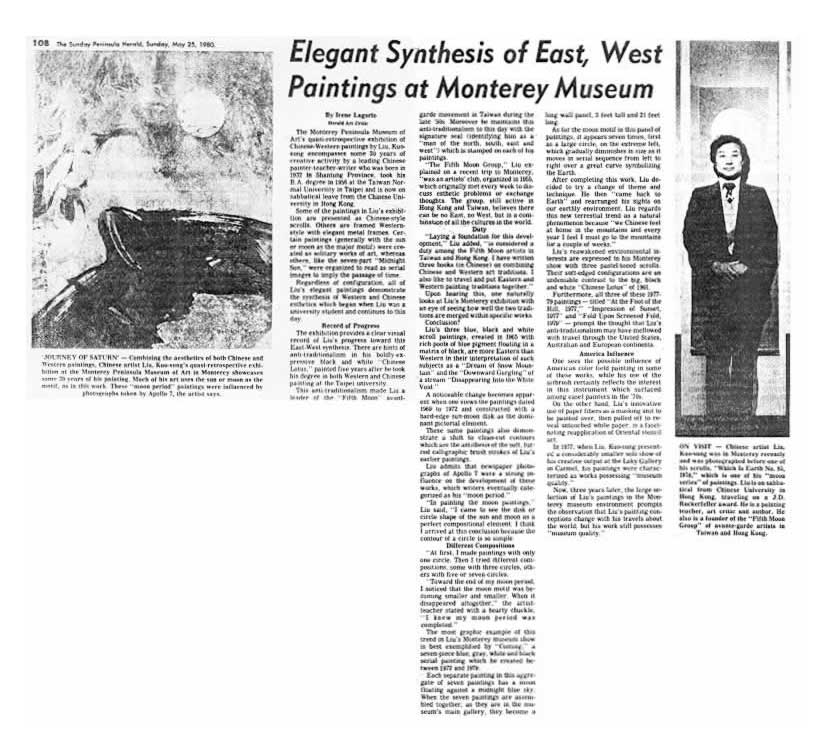 Back to all